A Quiet Heart

"In quietness and in confidence shall be your strength" (Isaiah 30:15).
It is always weakness to be fretting and worrying, questioning and mistrusting. What can we do if we wear ourselves to skin and bone? Can we gain anything by fearing and fuming? Do we not unfit ourselves for action and unhinge our minds for wise decision? We are sinking by our struggles when we might float by faith. Oh, for grace to be quiet! Why run from house to house to repeat the weary story which makes us more and more heart-sick as we tell it? Why even stay at home to cry out in agony because of wretched forebodings which may never be fulfilled? It would be well to keep a quiet tongue, but it would be far better if we had a quiet heart. Oh, to be still and know that Jehovah is God! Oh, for grace to be confident in God! The holy One of Israel must defend and deliver His own. He cannot run back from His solemn declarations. We may make sure that every word of His will stand though the mountains should depart. He deserves to be confided in; and if we would display confidence and consequent quietness, we might be as happy as the spirits before the throne. Come, my soul, return unto thy rest, and lean thy head upon the bosom of the LORD Jesus.
~Charles Spurgeon~
_______________________________
BIBLE MEDITATION:
"But unto them which are called, both Jews and Greeks, Christ the power of God, and the wisdom of God."
1 Corinthians 1:24
.
DEVOTIONAL THOUGHT:
Have you needed a counselor at times? People come to pastors and counselors for wisdom. We can counsel from Scripture, but we can't solve their problems.
We can try to lead them to the One who can solve their problems, the Lord Jesus Christ. I don't want them dependent upon me. I want them to know Jesus. He is the Counselor. There is wisdom in His name. Paul says in 1 Corinthians1:30, He "is made unto us wisdom and righteousness and sanctification and redemption."
ACTION POINT:
Are you going through a problem right now? You don't know the way out. You don't know what to do. Every answer seems wrong. I want to recommend my counselor to you. Call upon the true Counselor. His name is Jesus. Not only is there wonder in His name. Friend, there is wisdom in His name.
~Adrian Rogers~
_______________________________
The clear message that came across to me from Psalm 50 was that God wants our hearts, and desires for us to offer up to Him an earnest and genuine sacrifice of thanksgiving.
"The one who offers thanksgiving as his sacrifice glorifies me; to one who orders his way rightly I will show the salvation of God!" (vs. 23)
How do you show God that your heart is given to Him? Do you demonstrate to others that God is the desire of your heart?
~Tami~
_____________________________________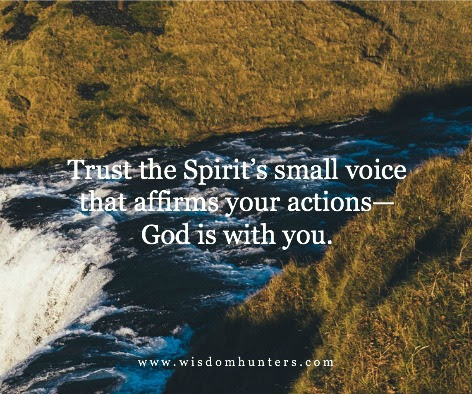 If it is to encourage, then give encouragement; if it is giving, then give
generously; if it is to lead, do it diligently; if it is to show mercy, do it cheerfully.
Romans 12:8
Gifted leaders are first and foremost good followers of God. They recognize the Gift Giver as their authority, so they do not lord over others—rather they submit themselves to the Lord. Because the leader respects Christ, he or she respects those they lead. Because they love the Lord, they love their team. Because they serve Jesus, they serve those who serve with them. Yes, a gifted leader is able to influence and educate a group toward an agreed upon goal. Leaders have followers.
Are you called to lead but feel inferior? If so, seek your confidence in Christ. Go to the Resourceful One for reassurance. Resistance does not mean you are a bad leader; on the contrary it may be validation that you are moving in the right direction. Indeed, some struggle in getting on the bandwagon of change—it threatens their security. So stay the course and lead prayerfully, patiently and lovingly. Trust the Spirit's small voice that affirms your actions—God is with you.
"Love must be sincere. Hate what is evil; cling to what is good. Be devoted to one another in love. Honor one another above yourselves. Never be lacking in zeal, but keep your spiritual fervor, serving the Lord. Be joyful in hope, patient in affliction, faithful in prayer" (Romans 12:9-12).
You know you have the gift of leadership if you can see the big picture and inspire others toward that God-given vision. You understand the sequence of steps required to reach the objectives. You perceive potential problems and are courageous and wise to make adjustments. You motivate the team to embrace transitions as necessary to stay relevant. You create a culture of accountability with real-time updates. No one wants to let anyone down in the execution process.
Your gift of leadership is a weighty responsibility, but you are not alone. Almighty God is your "go to" for humility, holiness and wisdom. God gives you what you need to accomplish what He wants. Furthermore, use your leadership role to invest in other emerging leaders. It is harder to grow leaders than it is to lead. Therefore, be intentional and prayerful to train up faithful men and women who will train others. You steward your leadership best by birthing other leaders!
"And David shepherded them with integrity of heart; with skillful hands he led them" (Psalm 78:72).
Prayer: Heavenly Father, lead me so that in humility I can lead others in Your ways.
~Wisdom Hunters Devotional~
________________________
The Lord is in the midst of thee.
Fear thou not; for I am with thee: be not dismayed; for I am thy God: I will strengthen thee; yea, I will help thee; yea, I will uphold thee with the right hand of my righteousness. - Strengthen ye the weak hands, and confirm the feeble knees. Say to them that are of a fearful heart, Be strong, fear not: behold, your God will come with vengeance, even God with a recompence; He will come and save you. - The LORD thy God in the midst of thee is mighty; he will save, he will rejoice over thee with joy; he will rest in his love, he will joy over thee with singing. - Wait on the LORD: be of good courage, and he shall strengthen thine heart.

I heard a great voice out of heaven, saying, Behold, the tabernacle of God is with men, and he will dwell with them, and they shall be his people, and God himself shall be with them, and be their God. And God shall wipe away all tears from their eyes; and there shall be no more death, neither sorrow, nor crying, neither shall there be any more pain.

ZEPH. 3:15. Isa. 41:10. -Isa. 35:3,4. Zeph. 3:17. Psa. 27:14. Rev. 21:3,4.

EVENING
Wherefore criest thou unto me? speak unto the children of Israel, that they go forward.
Be of good courage, and let us behave ourselves valiantly for our people, and for the cities of our God: and let the LORD do that which is good in his sight. - We made our prayer unto our God, and set a watch against them day and night.

Not every one that saith unto me, Lord, Lord, shall enter into the kingdom of heaven; but he that doeth the will of my Father which is in heaven. - If any man will do his will, he shall know of the doctrine, whether it be of God. - Then shall we know, if we follow on to know the LORD.

Watch and pray, that ye enter not into temptation. - Watch ye, stand fast in the faith, quit you like men, be strong. - Not slothful in business; fervent in spirit; serving the Lord.

Strengthen ye the weak hands, and confirm the feeble knees. Say to them that are of a fearful heart, Be strong, fear not.

EXO. 14:15. I Chr. 19:13. Neh. 4:9. Matt. 7:21. John 7:17. -Hos. 6:3. Matt. 26:41. I Cor. 16:13. Rom. 12:11. Isa. 35:3,4.
~Samuel Bagster~
_________________________